Build a Basic Website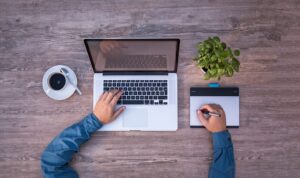 Over 5-weeks participants will develop skills by building their very own 3 page Wix website.
Upon the completion of this course students will have a basic operational website & will be able to:
to build a basic website using that platform
to use the help section of a website building platform
to understand simple website language
Classes will be held in person and Covid-19 measures will be in place.
Please Bring: Laptop, tablet or iPad
Date: Mondays, 2nd November – 30th November (5 sessions)
Time: 12.30pm – 3.00pm
Where: Castlemaine Community House, 30 Templeton Street.
Cost: $130 (full) / $105 (concession)
Tutor: Libby Torney
Libby is a local Central Victorian girl, who's lifelong learning began as a single mum/school dropout. After studding Applied Science at Tafe in the late 80's, she spent time as a Lab Technician at Coliban water, while raising her girls.
In 2003, Libby applied to LaTrobe University, completing a double in Business and Computing by 2008, and a Diploma in Education in 2009.
Libby has been teaching since late 2009, beginning her career in Adult Education at Continuing Education in Bendigo (now Access Employment and Training). She taught First Aid and Certificates of General Education (CGEA).
After a 6-month overseas stint as an Au Pair (nanny)/teacher in the Far North of Cameroon in Africa, she returned to Bendigo and commenced working at Victory Christian College as a secondary/VCE teacher. Her subjects were Business management and Legal Studies, with some odd semesters teaching Psychology and Sociology, Digital technology and Crafts/Art.
After five years, Libby took a break from secondary teaching and recommenced Adult Education, again with Access Training Skills, teaching different courses related to literacy and numeracy, Disability classes, Job Ready classes and First Aid.
Libby is a mother to 3 daughters and notes one of her greatest achievements as "being a Nanny to my one and only grandson who is nearly two. He just rocks my world."
Places are limited, book now: