Flowers in Watercolour
Express yourself painting colourful flowers in watercolour!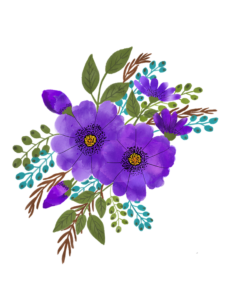 A range of styles will be explored from loose and free to a more closely-observed botanical style. Your flowers DO NOT need to be perfect! Bold and free watercolour is the tone of this class.
In this course you will have the opportunity to:
Experiment with mixed-media
Learn watercolour techniques such as washes, wet in wet, dry brush
Discover new ways to create light-filled, transparent paintings
Sessions will include tutor demonstrations and discussions.
Classes will be held in person and Covid-19 measures will be in place.
Materials list will be provided.
Date: Tuesdays, 10th November – 1st December (4 sessions)
Time: 9.30am – 12.30pm
Where: Castlemaine Community House, 30 Templeton Street.
Cost: $200
Tutor: Eleni Rivers
Eleni is a professional artist and teacher who has taught art classes for over 25 years in colleges, corporations and communities.
She holds a MFA in Arts and Consciousness from JFK University, Berkeley, California as well as several degrees in Fine Arts from colleges in Australia. Now based in Castlemaine, Eleni's art continues to explore themes of nature and mythology within the Australian landscape.
www.elenirivers.com
Places are limited, book now: